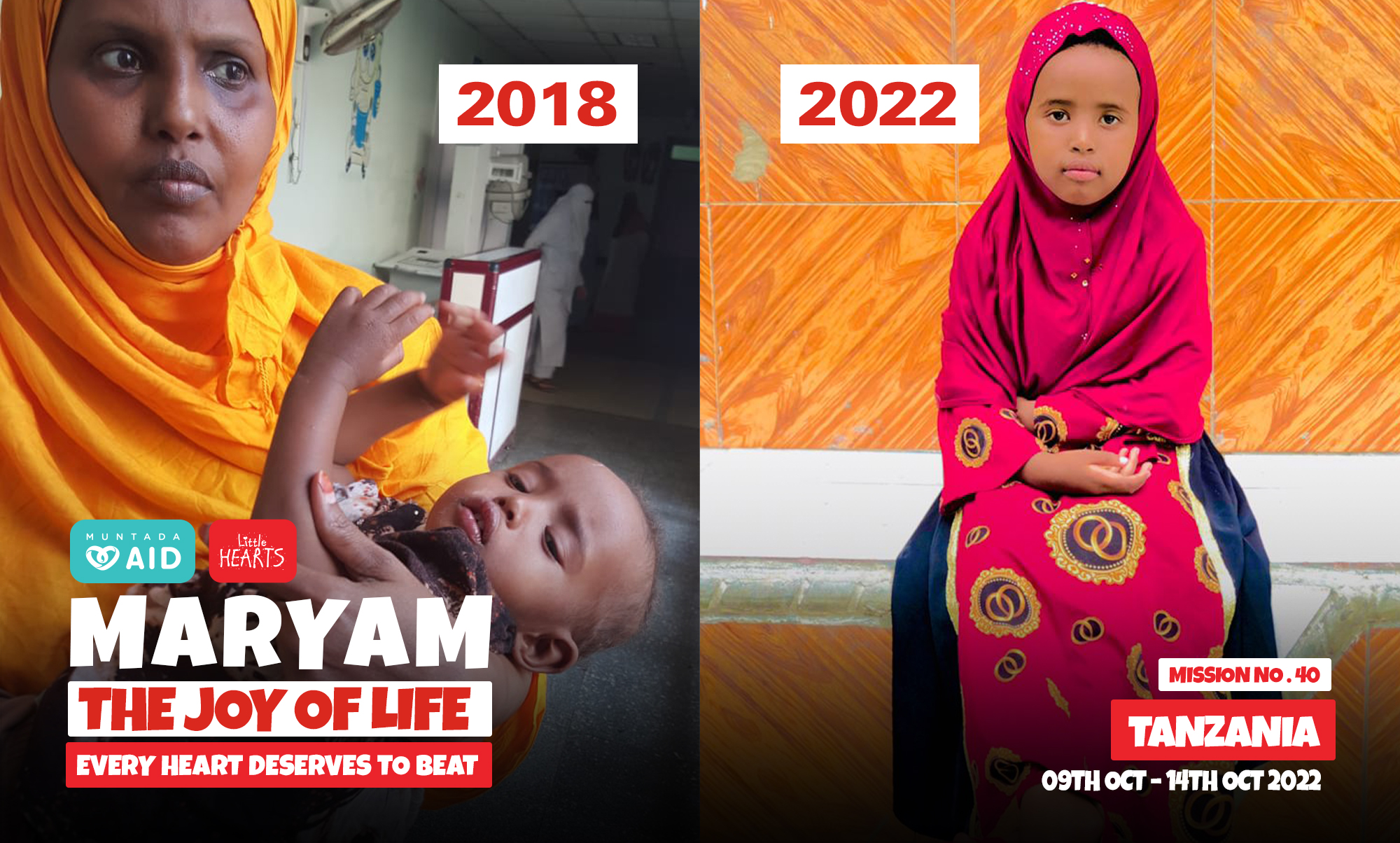 Maryam's family shared a picture of her in a beautiful red dress, matching hijab and matching sandals last week from Somalia. She is six years old now.
We are delighted to see her grow into this beautiful young girl.
We first saw Maryam in 2018. She needed open heart surgery and had no access to that kind of treatment in Somalia.
After various deliberations and delays, we managed to get her to Egypt, where our Little Hearts team treated her.
We wish her all the success and luck!
The same team of doctors will travel to Tanzania later this month to save more children like Maryam.
We can only share stories like Maryam's because you believe in our mission that Every Heart Deserves to Beat!
Little Hearts in Tanzania
We are pleased to announce that Little Hearts will be travelling to Tanzania, where the team aims to perform over 50 surgeries on children with various Congenital Heart conditions in October.
With your support, we have saved 164 children in three countries in 2022. The fact is that without our Little Hearts programme travelling to these countries, these children will struggle to receive treatment for this crippling and dangerous condition.
This will be our 40th Little Hearts deployment. We have now operated on over 24,00 children during these deployments in 11 countries.
Our Little Hearts team is again ready to travel to Tanzania in early October, where they aim to operate on over 50 children. The mission starts 09th of October at Jakaya Kikwete Cardiac Institute, Muhimbili Hospital, United Nations Road, Dar es Salaam.
We managed to assemble a team of international specialists from four different countries. It will be our 6th deployment in Tanzania.
"We plan to perform 50-60 operations during the seven-day mission. During our previous deployments in Tanzania, we saved 352 children. This East African nation is still economically poor, and hundreds of children are on a waiting list to receive these operations. The list keeps growing with inadequate health infrastructure and a shortage of specialist doctors. We hope this mission will bring some comfort to children and families," said Kabir Miah, Programmes Manager, Muntada Aid.
All these operations are free to children from the point of contact and funded by donations made towards the Little Hearts programme from various parts of the world.
About Little Hearts
In poor underdeveloped countries, the lack of specialized medical infrastructure means babies born with congenital heart defects have little or no access to necessary treatment.
Muntada Aid believes ignoring this deadly killer is tantamount to a death sentence for the many children born with this disease.
Most of these conditions can be fixed, but children suffer due to a lack of resources, infrastructure, and specialist medical staff.
We are committed to children with CHD and provide them with an opportunity for a healthy life.
Our missions are free from the point of contact and are powered by your donations.