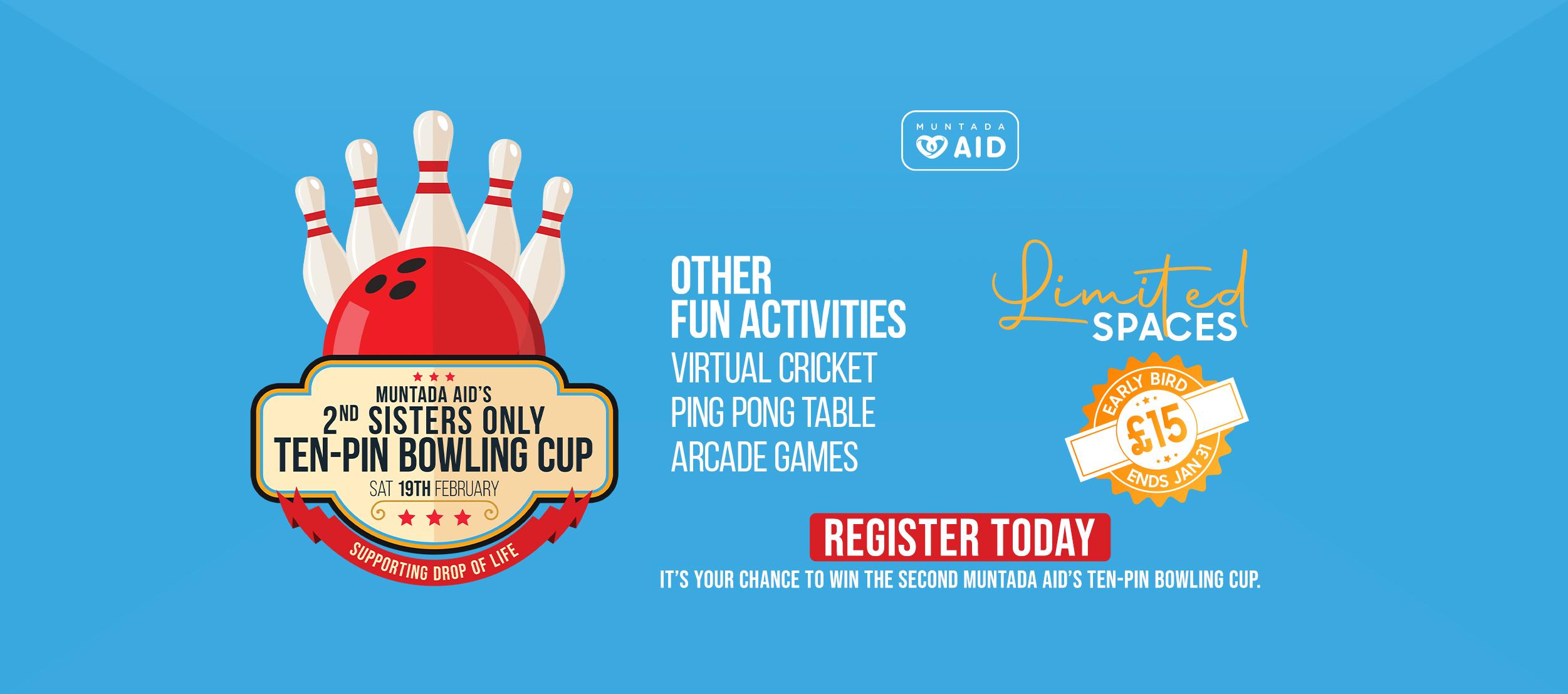 Muntada Aid's 2nd Sisters Only Ten-Pin Bowling Cup
It's here!
Muntada Aid is hosting its 2nd Sisters Only Ten-Pin Bowling Cup at Tavistock Hotel, Kingpin Suite, on 19th February from 2 PM to 6 PM.
The tournament winner will win a trophy and a gift hamper (You will love it!).
Don't worry if you don't make it to the final. We have lined up a host of activities on the day for you. From pool table to indoor cricket to table tennis and a host of arcade games, you are going to having a blast!
The idea behind this event is to appreciate and celebrate the support Muntada Aid has received over the years from women from all walks of life.
It's a family-friendly event, and you are more than welcome to bring them along.
What happens to the £25 admission fee?
£15 of your fee will cover admission to the ten-pin bowling cup (including activities), lunch and drinks. The remaining £10 will go towards supporting our Drop of Life programme.
#DropofLife
You can also organise digital or physical fundraising for Drop of Life programme.
Any donations will help us provide clean drinking water solutions to some of the most vulnerable communities in Asia and Africa.
Why Drop of Life?
Over 2 billion people in the world still lack access to clean drinking water. One of Muntada Aid's core values is providing dignity to people we support. Keeping that in mind, we aim to provide clean water solutions to people within their communities and ease off their burden of daily searching for freshwater resources.
Your donations and fundraising activities are the fuel to keep this engine going. This project is simply not possible without your help and support.
Each participant is requested to raise a minimum of £50 for our Drop of Life project.
Thank you for your participation.