Today compromised of an early rise in order to be at the Mulago Specialist Women's Hospital for a 9am meeting. There were finally Uganda's famous bananas on offer, and they are the tastiest and sweetest banana's I've eaten- shows the benefit of fresh unmodified fruit!!
We arrived at the hospital and were surprised by how modern the building was, but the centre has only been developed recently to try and improve outcomes for women of Uganda. Uganda's maternal mortality rate currently sits at 336 maternal deaths per 100,000 births, this is drastically lower than 2003, where 520 women died per 100,000 births. However, whilst the decrease is excellent news, when you compare this to the UK's rate of 7.3 maternal deaths per 100,000, the Ugandan rate is sobering.
Finally meeting our Ugandan counterparts was exciting, having only met over Zoom previously. They were so excited at the growing relationship and development of our workshop for improving maternal care. Once we got back to the hotel (following a pitstop to buy unlimited data to connect us back to reality) it was a quick lunch before we all had our individual filmed interviews with the charity funding the workshops, Muntada Aid. You can see a picture of us with our Mutanda Aid colleagues below, all wearing our charity t-shirts!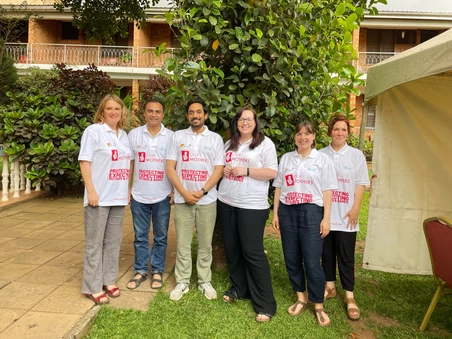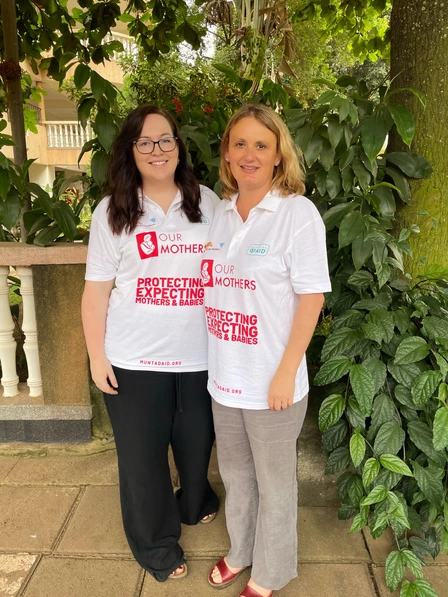 After this, it was back to the hospital to set up for our first day of workshops! A slight delay from a downpour of rain meaning we had to wait for the tables to be delivered was the only blip we faced. 4 hours after arriving we had finally set up, had a few practices with technology, and felt we were ready enough for the day!
Each midwife attending will not only arrive to a full breakfast buffet, but a table of gifts including a notepad, pens, hand sanitizer, hand creams (thanks to all that donated these!) and of course- sweets!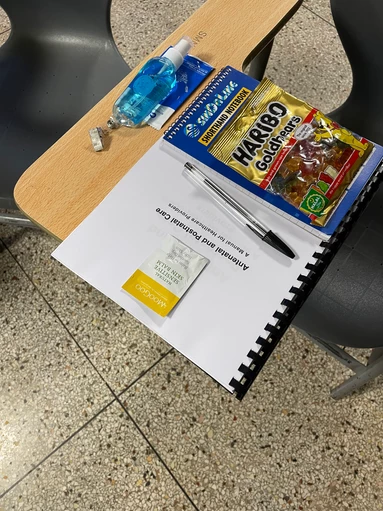 We are still sat up this evening running through the scenarios and drilling down the running of the day. There's a mix of anticipatory nerves and excitement that after months and months of planning, the whole reason we are here has finally arrived!
Wish us luck!
Author : Mollie Haskey
The blog first appeared in Midwifery Twinning Project- Uganda